i-Startup
is an original project of
"Galilei-Costa" High School
in Lecce (Itay) and it is an innovative educational program aimed at introducing the
Education to Self-Entrepreneurship
in the ordinary programs of the Business sector starting from the
1st year
(age 14). All with a special eye to the new
digital professions
(3D printing, web marketing, internet of things, sharing economy).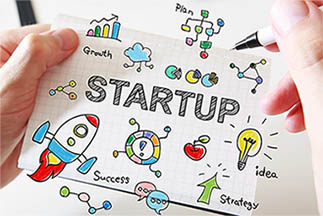 Thanks to
i-Startup
, starting from September 2017, all students enrolled in the 1st year have been the protagonists of a curricular training, during normal school lessons, which saw the deepening of
entrepreneurial
concepts in the programming of many subjects (such as Business Economics, Law, Computer science, Languages, Italian) and the effective creation and implementation of micro startups starting from the students' innovative ideas.
Is it a replicable project in other schools?
Absolutely yes. Since it does not involve any variation, either in the discipline or in the time frame (distribution of hours per discipline),
i-Startup
can be implemented in all the Business oriented Institutes and high schools. The only variation is in the deepening of some
contents
in the subjects' programming.
This project was born in a school where teachers (led by Daniele Manni) have over ten years of experience in encouraging students to
design, conduct and manage innovative micro startups
, both
economic
(introduction and sale on the market of products, services and web applications) and
social
. In the
Cases and examples
section of this website, you can consult a collection of ideas that young students (aged 14-19) have developed over the last 13 years.
It is no coincidence that
i-Startup
was born at "Galilei-Costa" High school in Lecce, indeed it can be considered a natural evolution of the
innovative teaching technique
based on entrepreneurship and the creation of young startups, which nominated Daniele Manni as
Finalist at Global Teacher Prize
in 2015,
Finalist at Italian Teacher Prize
in 2017, and been chosen by
Ashoka Italy
to represent Italian teaching innovation at the
Utrecht International Innovative Education Meeting
in 2016.
Are there
interactions with companies
? Guaranteed. During the entire school year there have been continuous meetings with
entrepreneurs and young successful startuppers
, both in the classrooms and in the school's laboratories and at the companies' places. Among the companies that showed great interest in the
i-Startup
project and who have already given full availability, include: