The mission of
i-Startup
is said in a nutshell:
To offer young people, from the age of 14 and in the normal course of study, the opportunity to experience what it means to invent a product, a service, an app and become Self-Employers. Above all in the digital field.
.
For those who think that girls and boys at 14/15 are too young to think about "work", they may be right. While we are convinced (and we have proof) that they are not at all too young for
creativity
and the desire to
invent something
that does not yet exist and not to young to get involved because that "thing" may become known, appreciated and sought after.
But what can happen, what educational and training impact can generate a project like
i-Startup
, what are the benefits of an
entrepreneurship education path with a start at 14
? It must be said that this reflection is not based on a mere hypothesis but are
a posteriori considerations
, arising from the over ten year experience at school, with a strong and particular vocation for the "real" Corporate Culture, not evocations in the classroom, not simulations, but real small and micro
entrepreneurial ideas
that see the creators implementers and "sellers" of new services and products.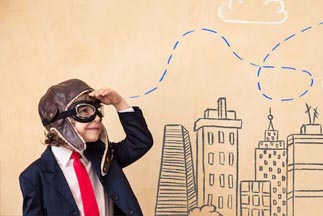 Let's start from the worst case, that is, those students who feel less involved and who discover they are little or not at all led to entrepreneurship (only the latter "discovery" deserves the game). They have the opportunity to touch and experience how we can
move from a phase of pure initial brainstorming to the search for an idea to the real placing on the market of what has been invented
, success or failure that is, better, a failure, as for this age it is certainly more educational and there is no risk of implanting sensations of super capacity in students. This category of students, which represents about 10-15% in each class, has at least perceived the sense and has had the practical demonstration that the "yes we can" idiom is not just a saying or a slogan.
Let's see now the best case, ie those students (on average 5-10% per class) who discover they have the inspiration of the entrepreneur, who let themselves be fascinated by the different challenges but also by the risks of the trade, which are not discouraged by failures, on the contrary, they draw lessons and encouragement to do better, which find a great inspiration in creativity, innovation and being an advocate of change (a "
changemaker
"). In this case these students become startuppers, in the true sense of the word, they give life to one or more entrepreneurial ideas, sometimes individually, much more often in group with other 2/3 partners. These students wil not go seeking for a job because they have already found it, they created it with
their own hands
..
While on the majority of the class, around 75%, the impact due to entrepreneurship education and awareness of self-employment, translates into a marked increase in
self-esteem
, greater
confidence in themselves and their abilities
, in a greater
resilience
, in a more marked tendency to
optimism
and in a less distrust in the future, the latter unfortunately characterizes our youth.